Short guide: how to add multiple monitors to your windows 10 PC
Adding multiple monitors to your Windows 10 computer can be very beneficial and productive, whether you are a programmer, data analyst, gamer, or a digital nomad. it doesn't only cool but it can improve your productivity as well.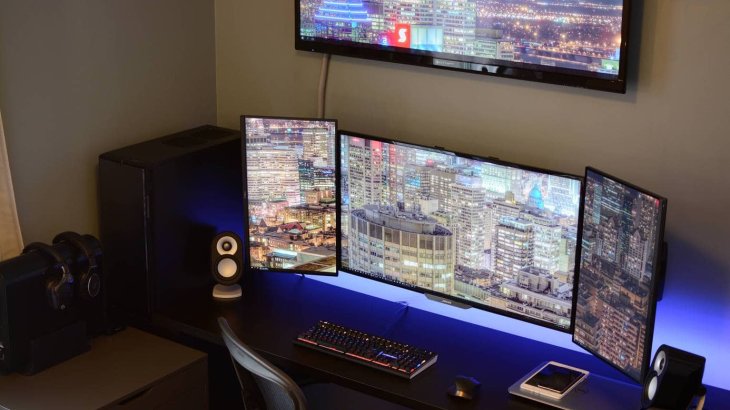 The best thing about windows is that it gives you a very easy option to add multiple monitors to your windows 10 pc.
it's very easy to set up and that too without installing any third-party software. for windows users, who don't know how to how to add multiple monitors to your windows 10 pc. you are going to learn today, how to do the right way:
What are multiple monitors in windows pc?
before jumping into the how-to section, let's learn a bit about multiple monitors in windows and why is it useful for you,(if you are not using it already).
the term multiple-monitors is a way to use multiple monitors, all connected to one computer in order to increase productivity in the workplace. it is mostly used by gamers as it improves their gaming experiences.
multiple-monitors in pc are commonly called dual monitors or triple monitors(depends upon how many monitors you are using), but generally, most people prefer dual monitors, as it's easy to operate.
What are the advantages of using multiple monitors in windows pc?
you might be thinking "do I really need dual monitors for my pc?", you may feel overwhelmed but the truth is it has lots of advantages, with dual monitors you improve your multitasking power and using multiple monitors gives a great gaming experience and not only in games but it also gives a great experience to content creators, stock marketers, and others.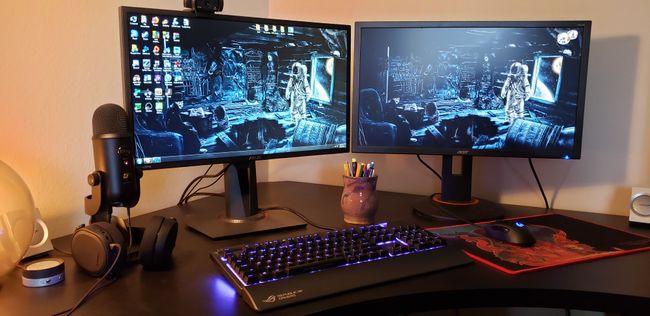 Here are few advantages of using multiple monitors to your Windows 10 PC
Enhanced productivity

Better multitasking

Easier cutting and pasting

Image and video editing

New gaming experience
source: tech advisory
But .. But… 
Just like the advantages, there are disadvantages for using multiple monitors to your Windows 10 PC as well.
A secondary monitor uses up more desk space

Naturally, adding a second monitor costs more

A second monitor uses more computer resources

A second monitor can be distracting
source: ignitingbusiness
How to Configure Dual Monitors with Windows 10
The first step to configure dual monitors is that you need to check first you have the slot (port) or not, if you see one, then connect it to your HDMI, DVI, or VGA port on the PC.
Connect both monitors to the computer the same way, and make sure they're both powered on. 
Press Windows Key + P on your keyboard. it's a windows shortcut for bringing up a menu with a list of options. 
options such as:
pc screen only 

duplicate 

extend

Second screen only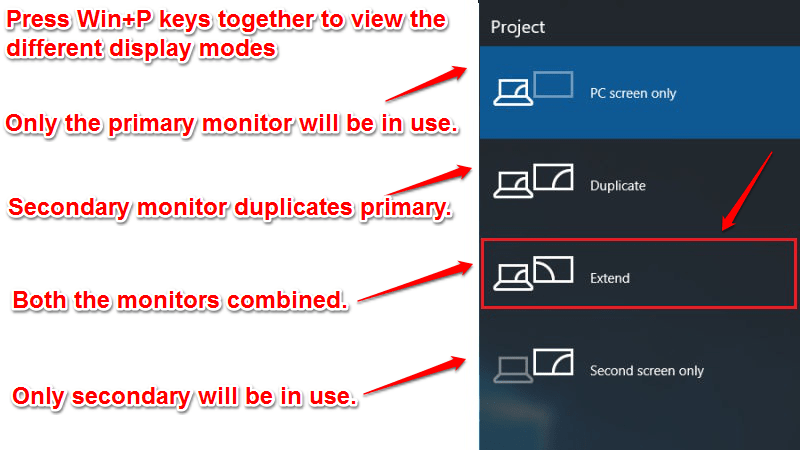 here choose "extend" option.
How to rearrange multiple displays on Windows 10
you will face issues using the mouse and running applications until you rearrange them correctly. so it's important to arrange them in order.
To rearrange monitors on Windows 10, use these steps:
Open 

Settings>System>Display

Under the "Select and rearrange displays" section, drag and drop each display to rearrange them according to their physical layout on your desktop.

Quick tip:

 while rearranging monitors in the Display settings page, make sure that all monitors align at the top perfectly. Otherwise, you'll have problems moving the mouse cursor between monitors from the corners.

Click the 

Apply

 button.
Configuring Settings as per your requirements
If you have unique requirements, you can adjust these using Display Settings.
 Right-click the desktop and select Display settings.
here you can make individual adjustments for each monitor. For example, the default screen resolution for monitor 2 is 1366 x 768, To change the screen resolution, scroll down and select Additional display settings.
Click the Display you that you want to modify and then click in the Resolution drop-down menu and choose the resolution you want.
play around with it and see what fits you.
 and click Apply to confirm changes.
that's it you're done.
to know more about it check out this guide from windows central:
how-connect-and-set-multiple-monitors-windows-10
also read: