What is Superfetch in Windows 10? and should i disable it?
In this article, we are going to learn what exactly is superfetch in windows 10 and what is it's purpose.
What is Superfetch in Windows 10?
In laymen's term Service host superfetch is just Windows way of making things easier for users.
Now I know it doesn't give any clue for windows users, exactly what it is, that's why in this article we are going to understand in depth what exactly is superfetch in windows 10 (with an example as well).
Many of you heard that disabling superfetch will make your computer fast like a supercomputer (light humor),
but does it?
in this article, I will be going to break some myths regarding superfetch, and I'll tell you what exactly superfetch is? and what it does.
Superfetch is one of the smart features of the Windows operating system, which is often misunderstood by most people.
So let's take a look at what is superfetch and what are some crazy myths about superfetch that is completely fake.
superfetch is a feature of windows which started coming after Windows Vista, After windows vista, superfetch came into windows 7, and then windows 8, and so on…
now, most of you don't know about windows vista, so let me give you a quick definition of…
what is windows vista?
For those of you who don't know about Vista,
Windows Vista is an operating system that was produced by Microsoft for use on personal computers, including home and business desktops, laptops, tablet PCs, and media center PCs.

Development was completed on November 8, 2006,

moreover, over the following three months, it was released in stages to computer hardware and software manufacturers, business customers and retail channels.

windows vista was released worldwide On January 30, 2007. ( source: Wikipedia )
You can click here to see all the Microsoft Windows versions.
where to find superfetch in my task manager?
You can always see superfetcth (sometimes knows as service host superfetch) in the task manager running in the background. It is named "Service Host: Superfetch."
What is Superfetch in Windows 10?
It is a kind of A.I. superfetch analyzes your ram usage patterns, about which applications or software you use the most.
So then it marks those applications as "frequently used" and preloads them into RAM before even you run the next time so that you can access them faster than you usually do.
Isn't it a cool thing?
what does superfetch do in windows 10?
It mainly reduces two things:
The first is boot time, and the second is the application/software loading time.
What is boot time?
The time it takes for a device to be ready to operate after the power has been turned on. (source: pcmag.com)

So how superfetch reduces boot time and application loading time?
you have seen many time times that when you turn your computer on it takes a few seconds to load.
Do you know why it takes that much time?
well, the thing is, at that time superfetch is loading some of your drivers and other small software in the background (usually those applications which are marked as start-up applications. and apps like internet download manager, etc).
SuperFetch reduces boot time by tracing which files need to be loaded at which times during the boot process. And superfetch stores This information in a trace file so that it can be used in the future, so next time when you switch on your pc this information will be used to make the boot time faster.
And In terms of application loading time, it analyzes two things, what application you use and at what time in the day you use them, and then just like in boot time scenario it pre-loads those applications in your main memory.
for instance, if you open any game every day at 10:00 PM superfetch will pre-load these into memory, so if you can access it more faster.
techgenix.com has explained this in very simple, take a look:
For the Windows operating system to load, or for any application to load, we need data files, which need to be accessed in a specific order. Now, the best-case scenario for quick loading is, when:

The files are available in fast access memory, that's RAM.
The files are placed in the sequence they'll be needed in.

SuperFetch analyzes the booting, and the application loading, and prepares a trace document with all this information. This trace document, then, helps SuperFetch prepare beforehand, so that it can arrange the files in a manner that enables the fastest loading.
But there are some cons too for having superfech …
here you can see I have 4.1 GB of cached data because of superfetch.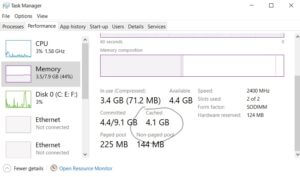 But it is not bad, superfetch manages the use of data cached in RAM to ensure quick access to your favorite application/software.
In case if this idea pops into your mind that I should delete it, it's too much cache for my pc, but trust me I wouldn't suggest you delete it, because it would just fill up again after some time (as you open other applications) so it's just waste of time.
The goal of caching, in general, is to increase performance by making resources available before they are needed; in this case, loading data into RAM that the kernel thinks may be useful in the future (which is not always correct). So even if there is a way to clear it, there is really no need to, and it would just fill up again. Also, note that RAM is volatile, so the cache isn't kept when the system is not powered.

(source: superuser.com)
superfetch causing 100% disk usages
Although it's a great feature in the Windows operating system, it has some downside too, which is superfetch 100% disk usage problem.
Many Windows users have experienced that in task manager superfetch is taking 100 percent disk usage.

why superfecth is showing 100% disk usage problem?
fossbytes has explained very well about this superfetch disk usage problem,
At this point, you might be wondering if Superfetch is so helpful then why the nagging process takes up high disk usage in Windows 10.

To put it simply, the memory manager process itself takes some amount of RAM to run smoothly. Moreover, it tends to run in the background as well.

That's not the only reason. Sometimes, it can mess up on its own, not knowing when to stop or which process to pre-load. On bootups, it makes things even worse by running all the processes that could have been executed at a later point in time.

Many users have repeatedly reported that Superfetch gets in their way while gaming, bringing frame rates down. Many also say that the Superfetch process results in unexpected spikes of memory, even at times freezing the system.(source: fossbytes)
What's the difference between prefetch and superfetch?
Superfetch and Prefetch are different, but still, they are the same,
what do I mean by that?
There's only one difference that differs prefetch from superfetch.
according to www.forensicswiki.org:

SuperFetch is a performance enhancement introduced in Microsoft Windows Vista to reduce the time necessary to launch applications.

SuperFetch works with the memory manager service in Windows to analyze memory usage patterns over time to determine the optimal memory content for a given user for a date or time of day.

This differs from the Prefetch technique used in Microsoft Windows XP, which preloads data into memory without analyzing usage patterns.
So in simple:
Superfetch preloaded data into memory by analyzing user's usage patterns like at what time the user opens this application.
While prefetch didn't. This is what differs prefetch from superfetch.
Prefetch was first introduced in Windows XP, so you can say superfetch is an advanced version of prefetch.
And here's a brief explanation about prefetch:
Each time you turn on your computer, Windows keeps track of the way your computer starts and which programs you commonly open. Windows saves this information as a number of small files in the prefetch folder. The next time you turn on your computer, Windows refers to these files to help speed the start process.

The prefetch folder is a subfolder of the Windows system folder. The prefetch folder is self-maintaining, and there's no need to delete it or empty its contents. If you empty the folder, Windows and your programs will take longer to open the next time you turn on your computer.

Dangerous myths: Deleting the information in Prefetch folder

There are often claims that deleting the Prefetch folder actually results in less boot-up time and more free memory. The reasons for this vary—for example, some experts claim that Windows loads Prefetch information for all of the programs you've ever started on your computer into memory automatically, filling your RAM with unused data (this is not true.) These experts recommend deleting the contents of "Windows\Prefetch" on a regular basis, to keep your memory free from unused data. Ouch! Two reasons:

1. If you don't run a program, Windows does not access the Prefetch information.
2. Windows maintains a maximum of 128 entries in the Prefetch folder. It cleans itself automatically.

So, if you actually delete the Prefetch folder, here's what you should really expect to happen: Windows and applications will need noticeably more time to start, as the Prefetch data needs to be collected again. The entire performance of your system will slow down.
(source: microsoft forum)
Should I disable Superfetch in windows?
You might be wondering. Is it safe to disable Superfetch, and should I?
Well, there are 100s of major errors you can get when you disable any feature of windows but in superfetch, it's not the case.
However, it will increase your boot times, slower the response upon opening programs and some other small problems if you do so.
So, you shouldn't disable it. But, you can disable it in certain circumstances.
Why should I disable superfetch?
there are a number of reasons…
Many windows users are facing high disk usage problem because of superfetch.
Since Superfetch is always running in the background, it uses some CPU and RAM all the time.
many Windows users have reported that superfetch reduces their gaming experience.
My advice will be to disable once and check your PC's performance if your pc is running smoothly then you're good otherwise turn superfetch on.
How to disable superfetch Using Command Prompt?
Search command prompt in windows.
Right-click and run as administrator
Then type the below command and hit enter
net.exe stop superfetch