In today's guide, you are going to learn how you can activate your windows 10 Computer just by using the command line, which is commonly known as CMD or command prompt.
Most PC users do not know that they can activate their windows for FREE as well, so you might want to bookmark this post for the future purpose.
This post will give you a step-by-step easy guide, to teach you how you can activate Windows 10 on the command line.
it is by far the fasted method to activate the windows 10 product. (probably under a minute, if you do all the steps exactly as it is mentioned) because in here you don't need to install any Windows 10 activation tool or watermark remover tool or something for activation. so it'll be a pretty straightforward guide for non-techy folks. 
After the installation of  Windows 10 on your computer, it will ask you to activate your Windows 10 when you'll try to personalize/customize windows 10. If your Windows 10 system has not been activated, Windows will not let you personalize your desktop (such as personalizing your lock screen, wallpaper, theme, etc.) and it will show a watermark at the bottom right screen saying "Activate Windows. Go to Settings to activate Windows".
which looks very annoying on the screen
Also read:
so let begin the process to activate window 10 with help of CMD.
How to Permanently Activate Windows 10 with command line
Step 1.  press Windows and search cmd, right-click and run as administrator.
Step 2. Now type this command on cmd slmgr.vbs /upk  (it will uninstall previous product key)
Step 3. Next, copy and paste this command line and hit Enter to install the Windows 10 product key: slmgr /ipk NPPR9-FWDCX-D2C8J-H872K-2YT43.
Step 4. now type slmgr /skms zh.us.to command line and press Enter.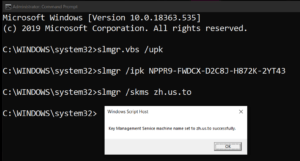 Step 5.  copy and paste slmgr /ato and hit Enter to activate Windows 10 with CMD.
that's it now you're done, now…
how to check windows 10 is activated or not?
another method to check windows 10 is activated or not:
type windows + run
type this command slmgr.vbs -xpr
you watch this video if you are still facing any problem
Conclusion: 
this is how by following the steps above, you can activate Windows 10 for free with the command line, and after activating Windows 10 you'll be able to customize your home screen like lock screen, wallpaper, theme, etc., and the annoying watermark of windows won't show anymore.